How To Choose Your Basketball Hoop?
Playground World's Todd Music gives a great overview and helpful suggestions on how to choose a Basketball Hoop.
---
Basketball Hoop Type
In-Ground Basketball Hoops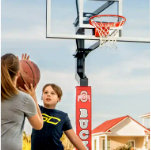 In-ground basketball hoops use higher quality materials to stand up to years of play. In-ground hoops offer pro-level performance just like those used in the NCAA college basketball and NBA games.
Portable Basketball Hoops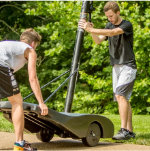 Portable basketball hoops offer increased stability for better rebound and playability, easier portability, and easier assembly. High-Quality portable basketball goals offer great performance benefits such as a steel base and a premium backboard.
Wall Mounted Basketball Hoops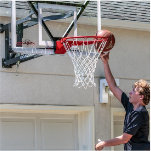 Short on space for a basketball in-ground installation? High-Quality wall-mounted basketball hoops provide the same performance, durability, and adjustability of an in-ground goal but mounted to a wall instead. Wall mounts can be mounted to any wall either indoor or outdoor and are perfect for garages.
Youth Basketball Hoops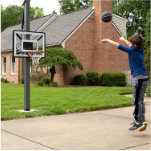 Cultivate the love for the game of basketball. Goalrilla's Junior Basketball Hoops are a great way to set up a basketball court anywhere for your child to begin learning to play basketball. The Junior Hoop easily mounts to an in-ground basketball goal pole, bunk bed railings, bleachers, fence posts, and most any round or square poles to start playing instantly.
---
Backboard Size
72" Backboard
Professional level goals that perform like those used in regulation High School, NCAA college and NBA basketball games.
60" Backboard
One of the most popular sizes for residential installations. Durable enough for the serious player and ideal for youth.
54" Backboard
Consider a smaller backboard for a smaller driveway size to allow for ample playing space. Perfect for young children just learning the game of basketball.
48" Backboard
Goalsetter has smaller residential courts covered. Goalsetter's 48" x 32" backboard basketball systems provide an economical way for a family to get a quality American-made basketball goal system that will last for many years.
---
Popular Basketball Accessories
Breakaway Rim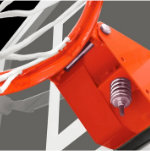 Flexes under pressure. Fits a variety of backboard bolt patterns. Long lasting - Powder-Coated Rim & Stainless Steel components. Includes mounting hardware, and nylon net.
Pole Padding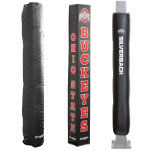 Ultimate protection for aggressive, rough play. We have many colors & styles. Support your favorite team. Compatible with square 4" x 4", 4.5"x 4.5", 5" x 5" and round 3.5", 4", 4.5" and 5" size poles and stands 49" high.
Of course, Basketball's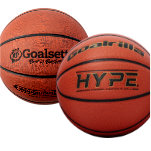 Superior ball handling. Soft feel and deep channels. Designed like pro-level balls. Composite and leather coverings available.
Basketball Holder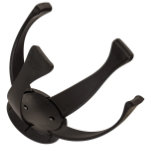 Keeps your sports balls organized, safe, and ready for play right where you need them. Multiple mounting options, mounts to your basketball goal pole, wall, or any surface with an included adhesive strip.
---