Hoops That Bring Out The Players Best Game
A Goalrilla is an investment. If it's your first time purchasing a basketball goal, it will be your last time. Established in 1991, there are some of our original installations still going strong today. While proper care and maintenance are important, quality parts and durable design keep these goals in play.
Need help choosing your basketball goal? Be sure to take a look at our section "How To Choose Your Basketball Hoop".
The Goalrilla Lineup
Goalrilla, basketball hoops that truly replicate the in-game experience.
ClearView Series (CV)
Clear View backboard support, the CV series removes the obstructed view through the backboard of an H-frame design and delivers more consistent rebound across the entire board. Backboard options are: 54", 60", and 72". The CV series offers a 1/2" thick backboard in the 72" model or a 3/8" thick in the 60" and 54". The CV goals also include pole and backboard pads.
GSc (GS Clearview) Series
A premium residential hoop. Minimalistic styling principals. One of our most popular models. Like the CV ClearView Series, Clearview series allows you to see the complete glass backboard, with no supports blocking the view of the shooting square. The GSc Series comes in 54", 60", and 72" backboard sizes. They're a perfect option for beginner level players or for recreational use. The powder-coated steel pole construction offers superior rust-resistance, UV protection and won't fade over time.
Silverback Series
Affordable and versatile basketball hoops the whole family can enjoy. From their first junior hoop to graduating to an arena-style in-ground basketball goal. Silverback offers high-performance hoops at an incredible value without sacrificing quality. Choose between in-ground basketball hoops, portable, wall mounts, or a junior hoop.
---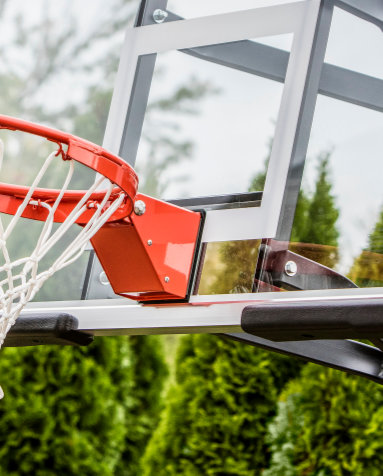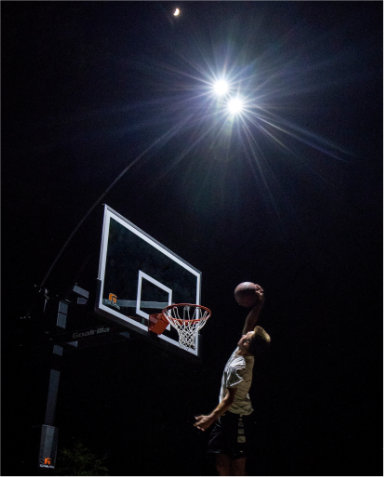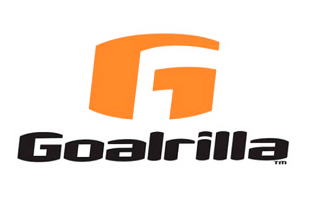 ADJUSTABLE BASKETBALL HOOPS
Every Goalrilla basketball hoop can easily be adjusted in height from 7.5' to 10' with the included actuator. Children as young as 6 years old can adjust the easy-to-crank actuator so they can bring the goal down to a height that's appropriate for them or raise the height as they grow alongside the basketball goal. Adjustable basketball hoops are great for children learning to play the game.
IN-GROUND BASKETBALL HOOPS
Goalrilla's in-ground basketball hoops feature in-ground anchor systems cured in concrete with the option to unbolt and move the goal. In-ground basketball hoops offer the most advanced performance of any residential goal, closely replicating the performance of NCAA and NBA hoops.
Most in-ground goals feature tempered glass backboards which offer the most authentic rebound available while the rigid steel pole mounted in concrete offers incredible stability for the entire unit.
PORTABLE BASKETBALL HOOPS
Goalrilla's portable basketball hoops provide increased stability for great rebound and playability, easier portability, and simpe assembly. Goalrilla's portable basketball goals offer great benefits over traditional portable basketball hoops such as a steel base and premium backboard.
WALL-MOUNTED BASKETBALL HOOPS
Wall-mounted basketball hoops are perfect for saving space in your driveway. Choose a Wall-Mounted hoop if your driveway space doesn't allow for a basketball pole installation and the overhang required to safely play.
View/Download the Goalrilla Catalog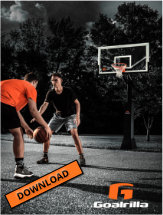 ---
DC72E1

Special Price

$3,299.99

Regular Price

$3,599.99

CV72

Special Price

$2,799.99

Regular Price

$3,099.99

CV60

Special Price

$2,399.99

Regular Price

$2,699.99

CV54

Special Price

$2,099.99

Regular Price

$2,299.99

NXT 50

Special Price

$499.99

Regular Price

$599.95

GS72c

Special Price

$2,199.99

Regular Price

$2,399.99