Warrensville Hts - Party Zone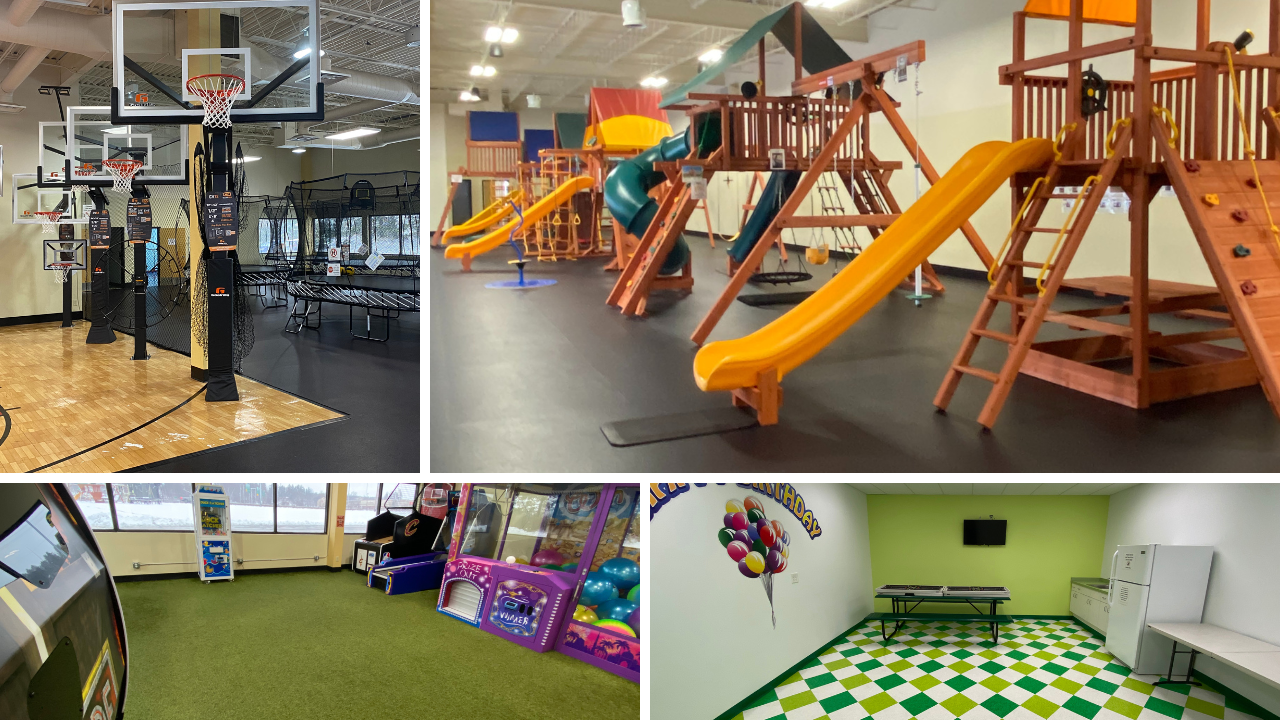 Swing, Slide and Jump in our Super Showroom 14,000 Sq. Ft. of FUN!
Playground World, Inc. 4400 Renaissance Pkwy. Warrensville Heights, Ohio 44128 440-729-0909 x100
SCHEDULE YOUR PLAYTIME NOW!
Now offering small group private play! Please see details below:
$99 per group - Up to 10 kids per group
$69 per group - Up to 5 kids per group
- 75 minute play time
- No food permitted, and no access to party rooms
- Playtimes available on Monday, Wednesday, Thursday and Friday in the time slots of 10AM-11:15, 12PM-1:15, 2PM-3:15, and 4PM-5:15 (the 4 p.m. time slot is not available on Fridays) Please note playtime is not available on Holidays or weekends. Playtime cannot be scheduled if a party is booked. Please refer to the party schedule at the bottom of this page.
Please call or email to schedule (440) 729-0909 or kbacus@pgworld.com!
**Please note we have permanently discontinued donate to play and open pay to play.**
PARTIES
Parties include 2 hours in the 14,000 square foot PlayZone and a private party room (private party room is available to the guest for the whole party). We provide the FUN – you provide the food, cake, non-alcoholic beverages, candles, utensils, paper products etc. Your decorations are limited to balloons & table toppers only – sorry no wall hangings. Balloons are not to be left on the premises. PLEASE MAKE SURE ALL CHILDREN ATTENDING HAVE SOCKS - NO BARE FEET PERMITTED. Socks can be purchased for $2. Infants under 1 do not go against your count of kids. Any children ages 1-12 participating will be included in your head count (including siblings of party guest).
Party Host can arrive no more than 20 minutes ahead of time to set up. Please note your credit card will be charged an additional $50 per every 15 minute increment over your scheduled party end time. Playground World reserves the right to charge an additional fee of $50 for damage to any party area or for excessive clean up. Every child attending needs a signed WAIVER by a parent or legal guardian. This can be done at the front counter upon arrival or online here https://pgworldwarrensvilleheights.pcsparty.com/sign. Please remember we are a retail recreation super store, customers can come into our showroom during business hours. Other than customers shopping you have the facility to yourself. Only 1 party is scheduled per time slot. We take FULL payment at time of reservation. **Due to our new safety protocols, please note that we have discontinued the option to pay a fee for additional children at parties. Party host is permitted no more than 20 children.** Our facility is CLOSED on Tuesdays and Sundays.
Monday, Wednesday, Thursday and Friday Party Times: 10:00-12:00, 12:00-2:00, 2:00-4:00 and *4:00-6:00
$299.00 (*$329.00 for Friday 4:00-6:00) for 20 children max. NO EXCEPTIONS. No limit on adults. Please have 1 adult for every 4 children. Please note party schedule may vary during Holidays and School Breaks.
---
Saturday Party Times: 10:00-12:00, 12:00-2:00, 2:00-4:00 and 4:00-6:00
$449.00 for 20 children max. NO EXCEPTIONS. No limit on adults. Please have 1 adult for every 4 children.
Times & Pricing are subject to change without notice. Cancellation Fee is fully refundable up to 14 days prior to your scheduled party. If cancelled within 14 days of scheduled party, Playground World, Inc. will retain a $50.00 cancellation fee. Private Party Room Details: Flat Screen TV w/USB port Refrigerator Parties of up to 20 children will have two 8' long kids tables, 1 adult 8' picnic table, 1 8' table for food.
Game Room Add-On Packages
10 – $10.00 cards for $80.00
20 – $10.00 cards for $150.00 ***BEST DEAL***
20 – $5.00 cards for $80.00
Directions
Our Super Showroom located at 4400 Renaissance Parkway is on the Orange / Warrensville Heights line in Warrensville Heights and sits along the east side of I-271 between the Harvard & Richmond Rd exits. Easy on/off freeway access. Just south of PINECREST where "East Meets Best". GPS from a smartphone works great!
Party Schedule